Young people in the 70s traveled for many of the same reasons that people travel for today: a desire to discover new places, meet new people, learn new things. But there was also a greater emphasis on finding yourself. So many of the young people traveled because they didn't feel like they belonged where they lived. Travel was a way to get out and discover new things about yourself.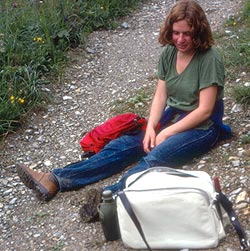 Many travelers came back home stronger, with life-changing experiences and new purpose. Some people went out only to find that all the things they were running from came right with them. For some it became a fun summer, but once they were home again, the events had no lasting effects on their lives. Some of us made connections and built friendships that would last for a long time and pave the way for what happened in years to come.
Today there are travel shows galore on TV, some even boasting that "we do the travel, so you don't have to." Maybe they can show "the sights" in high definition on TV, but you can't get the experience. You can't get the time spent with people who are traveling like you. There was great freedom for those with Eurail or Inter-rail passes in being able to hop any train or bus. If you allowed it, it made a host of chance encounters possible.
In the end there was nothing magic about going to the places, be that Europe, or Nepal or Marrakesh. It was really all about what happened inside the person traveling.