Young travelers got around Europe in a variety of ways. Some relied on the thumb and covered astounding distances. Some got together as a group, found a VW pop-top and drove around the continent. The '70s was a time when a backpacker, alone or in a small group, could reasonably safely, although with some adventure, go the land route from Western Europe all the way to India and Nepal.
Most of the backpackers stayed in Western Europe though. The Iron Curtain still made travel in the East Bloc a hassle. For getting around Western Europe, there was really no more convenient way to do so than to use trains. The continent was (and is) criss-crossed by a very efficient rail network, which back then offered direct connections to many places, large and small. This was still before the high speed trains, but instead you had access to trains that ran day and night, in most cases without the need for reservations. You just hopped on a train and took off. The European railways had instituted 2 tickets to make that especially attractive to younger travelers: The Eurail Youth pass for those living outside Europe and the InterRail pass for those living in Europe.
The Eurail Youth pass was good for 2 months of unlimited travel in 2nd class. The InterRail pass was good for a month in 2nd class, outside the bearer's home country. Both tickets were priced for young people on a budget.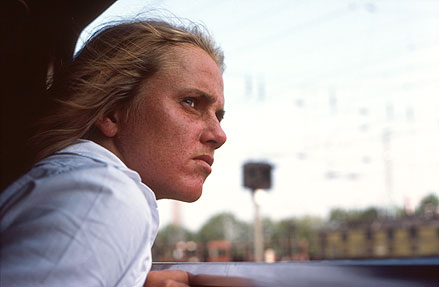 You could get on a train in the evening in Geneva and wake up to a beautiful ride along the Mediterranean in the morning. The ability to just get up and go made the travel so much fun. I went out with a list of places in mind and then let the trains and the people I met guide me.
For instance, in Switzerland, on my way to Gimmelwald, I met Patti and Cindy on the train. Turned out Cindy was going to Munich soon and wanted to visit the memorial place in Dachau. I had that on my list too, so we agreed to meet in front of the train station in Munich in a week's time, to go to the camp together. I then headed up to Gimmelwald as planned and filled the remaining days with a quick trip up to Amsterdam and Holland, before showing up in front of the station in Munich at exactly 6pm on the appointed day.
The freedom to just hop a train and go, the ability to sleep on a train to save on housing, the opportunities to meet other travelers, made the journey so great. When it was finally time to head home (because the nights got colder and the leaves turned brown and there were no more days left on the train pass), you returned home with a treasure trove of memories and new friendships.
I still recommend trains for getting around Europe. There are now high speed trains making many journeys a lot faster. On the downside, de-regulation has brought more varied fares and more reservation requirements. So it may take a bit more planning ahead today to get to all the places you want to see.