I arrived at Youth Hostel Ernst Reuter in Berlin in early evening on a day in August, 1975. Checked in, got something to eat and pretty soon was sitting at a table chatting with several Germans (none of whom were from Berlin) about the city.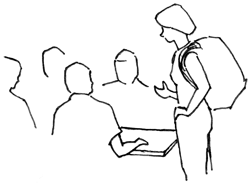 People came and went around us, more or less unnoticed. That is, until she stepped into the room. She came over to our table and asked: "Does anyone here know Berlin?" She was definitely American, sun-tanned and with a backpack on one shoulder. Now, she could have come in earlier or later, she could have not asked that question—that would have made all the difference in the world.
Next thing I knew, all the others at the table pointed at me. Funny, since I'm not German. But I'd spent enough time in the divided city. Soon she and I were alone at a table looking at maps and brochures, figuring out what she wanted to do with her time in the city.
I suggested the usual must-see items: Ku'damm, the Reichstag, Charlottenburg Palace, a trip over to East Berlin. Then I added:
"I'm going on a river cruise on Saturday afternoon," pointing out the route on the map, from Wannsee across the lake and river up to Tegel. "About 3 hours. Great way to spend the afternoon."
She looked at the map and shook her head. Something about not wanting to waste an afternoon that she could be doing city things. I told her, if she changed her mind, she could let me know before Saturday.
I didn't see her again until I was heading out of the Youth Hostel after breakfast on Saturday morning. Walking through the dining hall, I heard her yell: "Hey you, are you still going on that river cruise today?" She was at a table with a bunch of American girls, all having breakfast. I stopped and turned. "Yeah, and you are still welcome."
We figured out when and where to meet. And she and I became friends that day.
Now, 38 years later, we still keep in touch. I know a lot of things would have been different, had she not blurted out that question and those German kids not pointed at me. 30 seconds that made a new friend.