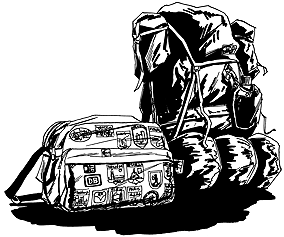 The travel on trains around Europe was fun. It was a great experience. A dream come true of a way to spend a summer. But then what?
For some people it was just that: something fun, one summer, now memories and life goes on. The travels had little effect on the rest of their lives. They went home, back to school and work and carried on.
For others, it was life-changing. One guy was backpacking around Europe in the mid-70s and decided he liked that so much, he didn't want to stop. Ever. So he made a career out of it. That guy was Rick Steves, author of travel books and columns and host of Travels in Europe with Rick Steves. You can check out what he is up to these days at ricksteves.com.
I am another guy whose life was changed by the travels and the people I met. If not for a chance encounter (if there indeed is such a thing) at Youth Hostel Ernst Reuter in Berlin, I wouldn't be where I am today. Thanks to Adis and Debbie, who I met at that youth hostel, I eventually ended up going halfway around the world. Instead of the school I had looked at near home, I went to college in a place I'd never heard of and met my wonderful wife of 27 years there. It was also while traveling around Europe I decided that I really wanted—no, needed to work with telling stories, using media such as photography, film and design.
Finally, the first summer I went out with a backpack, I went out because my other summer plans had fallen through. Traveling by myself was plan B (or C or whatever). I came home with new purpose and life had real meaning. I've done much travel since and gone many other places, but the change from that summer has never left. What's happened since has been because of that summer.